BIM Services Vs. MEP BIM Services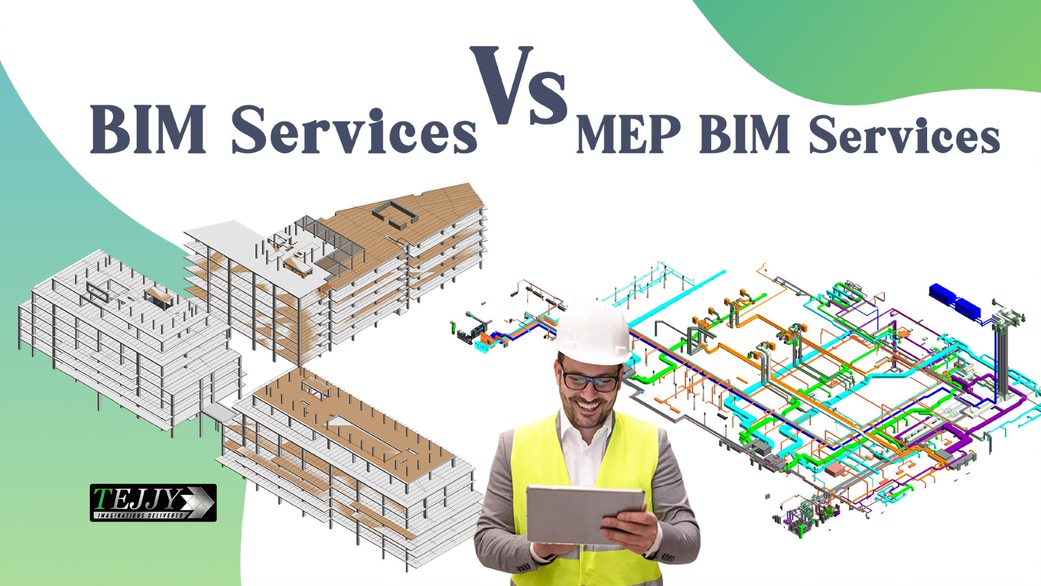 As per the recent research made by Markets & Markets, Building Information Modelling was valued at USD 5.4 billion in 2020 and is anticipated to reach USD 10.7 billion by 2026.
Major applications for the BIM Market include buildings, industrial and civil infrastructure and BIM software encompasses solutions for trades including architectural BIM services, structure, MEP and facility management. All services need effective collaboration at the pre-construction stage for a solid and safe foundation, out of which MEP forms the backbone of construction.
The acronym MEP stands for mechanical, electrical and plumbing with firefighting, which signifies the respective services within a building. MEP constitutes where the mechanical, electrical and plumbing parts are coordinated with each other.
BIM stands for Building Information Modelling. Building Information Modelling represents the physical attributes of a building facility.
Historically, construction projects were developed from 2D Drawings, where coordination was conducted through an overlay process. CAD was then introduced that showcased a digital layout but couldn't identify clashes. Segregating various tasks created a longer design process, causing technical errors. Lack of coordination also caused clashes amongst various project stakeholders, including contractors, and engineers.
In contrast, a Building Information Modelling-based approach is rationalised, where a virtual 3D model with details is available in a single place. The technique adds speed and convenience, resulting in quick decision-making. Clashes and conflicts are also visible within the 3D model.
Services include:
MEP Engineering is the short form of Mechanical, Electrical, and Plumbing, which lies at the core of the construction process.
Services include:
Benefits of BIM in construction:
Advantages of seeking MEP BIM services:
[edit] BIM Services vs. MEP BIM Services
A comprehensive model vs. a part:
Feeding complete details vs. a single file:
Clear observation vs. partial observation:
BIM software usage vs. MEP BIM software usage:
Common BIM software applications used by BIM Modeling Services Providers include Revit, Revizto, Navisworks, ArchiCAD, Vectorworks Architect, Edificius, Midas Gen, Autodesk BIM 360, SketchUp, Buildertrend, Trimble Connect, BIMobject, Civil 3D, BricsCAD BIM, Sefaira, Hevacomp, Kreo, etc.
Common MEP BIM Software applications include AutoCAD, Revit MEP, HEC-RAS, AutoPIPE, AutoDesk Fabrication ESTmep, SolidWorks Flow Simulation, SolidWorks Electrical Professional, Trimble Field Points, etc.
BIM Directory
---
[edit] Information Requirements
---
[edit] Information Models
---
[edit] Collaborative Practices
---
[edit] Standards
---
[edit] Levels of BIM
---
[edit] Glossary
---
[edit] Guide to BIM Level 2