London Borough of Enfield's heritage strategy
A new approach to public engagement has led to the London Borough of Enfield's new heritage strategy reflecting how important heritage is to recognising diversity and achieving growth.
Just over 50 years ago Sherry Arnstein published her seminal 'Ladder of Citizen Participation' (1969), critiquing planning practice regarding community participation and challenging the profession to do better. [1] Some thousands of academic citations later, her critique of participatory practice and the challenge to improve decision making still resonate. Heritage planning has often tended to be inherently non-participatory, rooted in statutory requirements and using consultation exercises or specialist advisory groups. Arnstein's ladder puts this as 'token' engagement, rather than a level of 'partnership.' Increasingly, however, heritage strategies are being used by local authorities to seek greater levels of community involvement, although many still follow conventional engagement routes with established heritage stakeholder groups.
With an eye to achieving more than Arnstein's 'token' engagement, the questions for Enfield in developing a new heritage strategy were both how to improve participation with limited resources and the extent to which better participation could be delivered, not just claimed. This meant a new approach to the role of community groups and rethinking how their involvement could actively shape Enfield's development. What resulted was a new heritage strategy driven by individuals from Enfield's many communities through negotiated and often imperfect partnerships. Perhaps just as significant, however, was that the intensity of the efforts to improve participation in turn led to a much greater prominence for heritage through the draft new local plan. A message of 'heritage for change' now puts heritage at the centre of proposals for good growth.
In June 2019 Enfield adopted a new Heritage Strategy, 'Making Places: Enfield Heritage Strategy 2019–24 SPD'. It is the council's second heritage strategy, but it is its first as a supplementary planning document (SPD). Enfield's first 'Heritage Strategy: A Living Landscape' (2008) identified key projects and highlighted the importance of both tangible and intangible heritage in the borough. This cross-council document included specific proposals for the museum and local studies library and archives services. The new strategy developed from this, identifying not only how heritage would be managed and resources prioritised, but also how the strategy would inform the coming transformational growth that Enfield anticipates through its new local plan. Enfield's communities and community-based heritage are key features throughout the new heritage strategy document.
In 2013 the council held a heritage conference for local people and heritage professionals with talks and workshops on a number of topics. The heritage strategy of 2008 was considered, and the conference found that 'there were ways in which it could be improved – such as making it a shorter, more focused document with an action plan, timetable for delivery, responsibilities for every party, and a clear way of monitoring progress and success. Local groups wanted to be part of the strategy.'
The challenge speaks directly to Arnstein's concern for 'citizen control'.
From the outset, the council was determinedly proactive about improved participation in writing the new heritage strategy. This was informed by the council's statement of community involvement (SCI), but the approach also sought to be flexible and open to different forms of participation, albeit using what resources were available and not rejecting all 'token' practices.
A first initiative drew emergent concerns though visits with local or borough group representatives to all 22 of the council's conservation areas. From this, first issues regarding densification, green spaces, waterways, enforcement and interpretation fed through to the emerging draft new local plan. Non-expert visitors to a departmental open day were next asked 'What is your favourite bit of Enfield's heritage?' Responses were informal, both written and spoken, often with accompanying stories of personal histories and reminiscence.
Work started on creating participant workshops with the same question put to those attending. Several responses reflected on the suburban character of the borough, its industrial past and, again, its green spaces. Efforts were made to open the workshops up to harder-to-reach groups, including by advertising through the voluntary and community sector newsletter, although with limited uptake. Informal word-of-mouth communication was more effective.
Those who attended included officers from planning, museum and archive services, representatives of heritage groups working across the borough, including in conservation areas and archaeology, Historic England, non-heritage community groups, an arts organisation, an artist, individuals working with local heritage on social media, and one with experience of heritage management in West Africa. The diversity of experience and interest led to lively, at times heated, discussions with groups that developed ideas structured by four core themes. These were memory, vulnerability and loss; landscape, architecture and design; local studies and archives, museum collections and archaeology; and promotion and external funding.
Facilitators observed and took notes. Participants were invited to contribute further ideas and material, and were advised at the workshops that a focus group would be held on a first draft of the document, drawn from the two workshops. This formally recognised workshop participants as co-creators of the document's form and much of its content, allowing for substantial changes at first draft if required. Participants, who were unpaid, seemed concerned to actively limit their involvement to the workshop and focus group events, with ultimate authorial responsibilities resting with the council. Where this might seem like 'placation' on Arnstein's ladder, it reflected constraints imposed by the participant group themselves.
Internal engagement was also undertaken. Workshop priorities were then integrated with corporate priorities and statutory requirements in emerging drafts. Concentrated cross-departmental discussion refined objectives and aims with relevant officers. Early drafts were presented to strategic boards across a range of services including, museum and local studies, leisure and culture, property, parks, burials, highways, corporate strategy and housing, and the voluntary and community sector strategy meeting.
At the same time as the new heritage strategy was being developed, initial work was already under way on the Regulation 18 issues and options draft new local plan for Enfield. As an outer London borough, Enfield is planning for an extraordinary increase in housing delivery figures from 395 units a year to something in the region of 2,400 a year. As internal engagement on the two documents progressed, the emerging local plan and heritage strategy became more closely aligned. Following the focus group, the draft strategy was taken to the council's place and design quality review panel (PDQP), and further amendments made that highlighted the interdependency of the local plan and strategy.
Feedback from the intensive engagement through workshops, focus groups and PDQP led to reframing heritage as a key part of good growth and successful place-making, and its associated importance for place attachment and creating a sense of place. Chapters in the local plan on heritage and design were moved to the front of that document in response. The decision that the heritage strategy should be developed as a supplementary planning document gave formal recognition to the active significance of heritage for growth. It was decided that consultation should be undertaken on both the draft new local plan and heritage strategy together.
Arnstein's view of consultation as participation is discouraging. Consultation is placed squarely within 'token' efforts to engage, keeping the balance of power with the authority. For this project, however, early participation in the development of the heritage strategy meant that consultation was already more than Arnstein's definition, allowing consultation to extend beyond existing 'stakeholder' groups.
The draft new local plan and draft heritage strategy were subject to public consultation between 5 December 2018 and 28 February 2019. The consultation was through the council website and a digital engagement platform, with hard copies made available in the libraries and council offices. Shared consultation events took place, including joint local plan heritage strategy presentations, workshops and drop-in sessions across the borough. Presentations were made to joint area ward forum meetings, neighbourhood planning groups, the green belt forum, conservation advisory group, Enfield Racial Equalities Council and faith group meetings. Joint workshops were also run with Enfield Youth Parliament and local colleges. There were evening events almost weekly, supported by a social media campaign inviting comments on heritage assets and new build.
Although ostensibly conventional consultation events, these proved exciting forums for discussion, building on early attempts to secure partnership and participation. For example, the draft new local plan included challenging growth options. Although there was a risk that the co-consultation could be perceived as what Arnstein calls 'placatory', the shared development of the new strategy with participants was recognised at these events as indicative of collaborative intent. Two workshop attendees spoke of 'contributing' to the development of the draft heritage strategy in terms of accepting some ownership of its content and commitment to growth. These events also offered opportunities to capture understanding of community-centred concerns that were not always manifest in formal representations.
All the talking brought closer engagement, but that was not always followed up by written responses. Thirty-five sets of responses were received for the heritage strategy, with another 40 answering a question on the heritage strategy through the local plan questionnaire. Nonetheless, this represented a massive response rate compared to previous heritage consultations. Formal responses came primarily from the established groups. Being alert to themes coming out of the early engagement and beyond established stakeholder groups was therefore the more important, so that reporting could reflect on these, as well as the formal representations. Without the early work to ensure participation, the views of several communities would have been missed.
Changes to the strategy's form and content made following consultation included incorporation of a document hierarchy map, more on the SPD status, and more objectives and aims relating to inclusivity, green spaces, waterways, enforcement and interpretation. The programme of meetings and events with community groups grew over the consultation period in response to suggestions from others. In one instance, building relationships with a non-expert community group from first workshop through to focus group, to consultation event and beyond, has brought significant new content to the document. This has included community-based poetry that is now being planned for use on local site hoardings and has led to proposals for an area-based poetry project. It reflects just how heritage is embedded for the borough's many individuals and communities. A busy web of other connections has been made.
As imperfect as Arnstein's categories may be, they resonate for good reason. In developing the new heritage strategy for Enfield, a degree of 'citizen control' has been achieved through participant partnerships that extended to, and beyond, expert stakeholder groups. In some respects similar to coproduction, it also built in informality. Constructive participation resulted from creating opportunities, being honest, flexible, accepting partial responses, recognising intermittent enthusiasm and renegotiating with the participant group as it changed. Vigorous attempts to secure partnership throughout the process have consequently led to a much higher strategic profile, connecting heritage directly with growth in place-making. Without Arnstein's challenge still reverberating, a more usual-suspects approach to engagement on heritage might have been pursued. With it, the new heritage strategy reflects a deeper understanding of the diversity of value placed on Enfield's current and future heritage, and its central importance to achieving growth.
There is an exciting postscript to the adoption of Enfield's new heritage strategy. The National Lottery Heritage Fund has identified Enfield as a funding focus area for the next five years. An Innovative Call for Projects offers both council and participants opportunities to consolidate new connections, build understanding and help deliver the strategy's aims for individuals, groups and communities across Enfield.
See https://new.enfield.gov.uk/services/planning/heritage-strategy
Ref [1] Sherry R Arnstein (1969) 'A Ladder of Citizen Participation', Journal of the American Institute of Planners, July.
---
This article originally appeared as 'Participation, heritage and a local plan' in IHBC's Context 163 (Page 43), published by The Institute of Historic Building Conservation in March 2020. It was written by Harriet Bell, part of the heritage and urban design team in the planning service at Enfield Council.
--Institute of Historic Building Conservation
IHBC NewsBlog
UK Parliament APPG first Inquiry - The Value of Heritage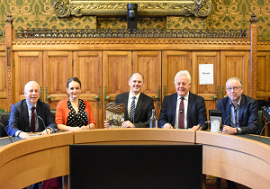 Targeted cuts in VAT on listed building refurbishments among recommendations in the UK-wide All-Party Parliamentary Group's (APPG) first report.
---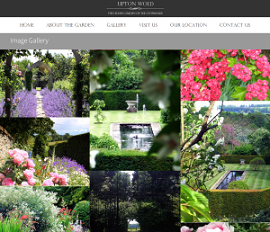 From glorious gardens and priceless collections to outstanding restoration and sustainability
---
Battle over £1.5bn hotel and office plan for Liverpool Street station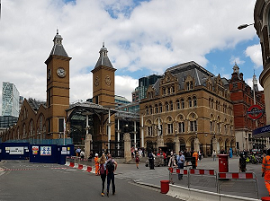 Sellar, the developer of the Shard, wants to build a 16-storey tower block on top of the historic mainline Liverpool Street station.
---
A Brief History of Reinforced Concrete Buildings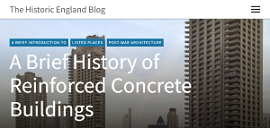 Concrete is explored by Nicky Hughes for Historic England, as the most commonly used man-made substance on the planet and second only to water as the most utilised resource.
---
New online route to CSCS Card for Built Environment Professionals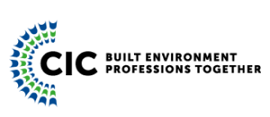 CIC has a new cutting-edge e-learning Health & Safety Certification course which on passing, has been agreed by CSCS as an acceptable alternative to the CITB Health, Safety and Environment test.
---
IHBC Context 173: Aspects of 'Diversity and Inclusion' in the heritage world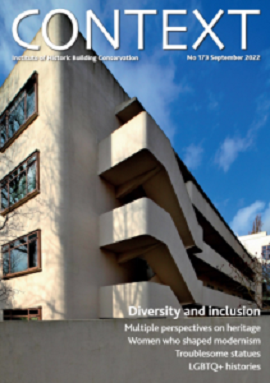 The issue explores 'Diversity and Inclusion' ranging from 'Multiple perspectives' on heritage; 'Modernist Women' and 'Troublesome statues' to LGBTQ+ histories.
---
Damaged cultural sites in Ukraine verified by UNESCO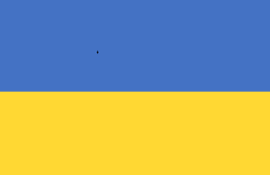 As of 5 October 2022, UNESCO has verified damage to 199 sites since 24 February – 84 religious buildings, 13 museums, 37 historical buildings, 37 buildings dedicated to cultural activities, 18 monuments and 10 libraries.
---
Joint Position Statement on 'Investigation of moisture and its effects on traditional buildings' Launched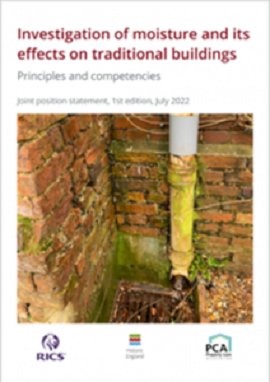 This document outlines the principles and competencies that surveyors and contractors should adopt to deliver best practice when investigating moisture-related issues in traditional buildings.
---
England housing strategy could consume over 100% of the nation's carbon budget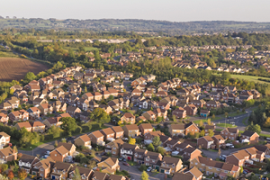 New research on the future carbon emissions etc. impacts on nature from England's current housing strategy estimates that by 2050 12% of the carbon budget for 1.5°C could be consumed by newbuilds, and 92% by the everyday emissions from the existing housing stock.
---
Historic England's 'A Brief History of the English Mosque'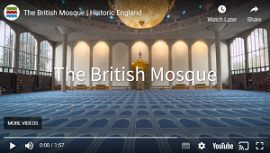 Historic England (HE) has published 'A Brief History of the English Mosque' on the discovery of the architectural evolution of the mosque in Britain, from the conversion of houses to contemporary expressions of mosque architecture.
---
Welcome to #IHBC25 – 25 years since we turned professional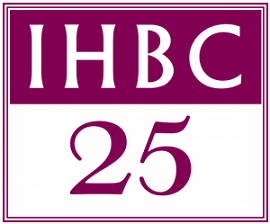 2022 will see the IHBC mark a quarter of a century since our incorporation as a professional body supporting and accrediting built and historic environment conservation specialists. We're kick-starting it by inviting your ideas on how to mark this special year!