Planning for sustainable historic places
In the heritage sector, sustainable development should be discussed not only in terms of efficient building performance, but also in the wider context of place and planning.
---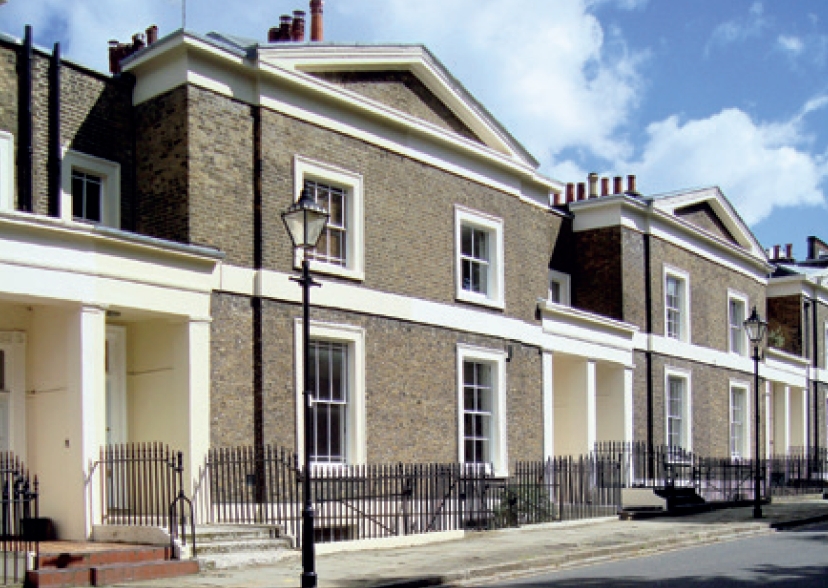 [Image: The Lloyd Baker estate in Islington, London: a historic area showing the best of urban design qualities. Dave Chetwyn.]
Those who plan for historic places need to assess the sustainability values of the area (social, economic, environmental) in addition to understanding heritage values.
Such analysis needs to address uses, live / work patterns, movement, and other factors, such as:
Mixed use. Historic areas have developed incrementally over time and usually have a finer grain of mixed use, reducing the need for car-based journeys. Sometimes there are residential uses located above commercial uses. There is a greater tendency to single use where places have been comprehensively redeveloped.
Urban design analysis often shows that historic areas have superior characteristics in terms of layouts, mixed use, concentrations of facilities, permeability and other characteristics. Good planning can build on these qualities.
It is also important to recognise the different ways in which historic buildings and areas support sustainable and inclusive economic growth, and fulfill community needs. This is often through the natural process of growth and decline, and resulting changing property values.
Most city and town centres have transitional areas, where traditional industries or commerce have declined, leading to suppressed property values. In such areas, historic buildings are often the means to providing flexible and affordable accommodation, essential to supporting enterprise, creative businesses, knowledge-based business, social enterprises, specialist goods suppliers and minority goods. So heritage can help to deliver not just more sustainable, but also more inclusive growth.
New development in historic areas can make places more sustainable or, if poorly conceived and designed, less. Groups involved in preparing neighbourhood plans often address heritage issues, either through specific heritage policies or through land use, growth, urban design and other policies that impact on how historic buildings are used, and on how historic areas adapt to meet the needs of current and future generations.
In relation to planning policies, the National Planning Policy Framework (NPPF) defines sustainable development as having social, economic and environmental dimensions. So heritage is considered by neighbourhood planning bodies as an integral part of the wider social, economic, and environmental planning of the area.
The basic conditions that neighbourhood plans must meet include achieving sustainable development. Achieving sustainable development could address various issues:
At a more strategic level, the serious discrepancies in economic performance between different parts of the country represents a serious threat to sustainable growth. Land and house-price inflation are severe problems in some parts of the country, especially London and the south east.
At the same time, there are many parts of the country where the development sector has yet to recover from the economic problems of almost a decade ago. In other areas, there is an imbalance between costs of housing and the strength of the local economy, fuelled by a range of factors such as second-home ownership and commuters (in Cornwall and rural Norfolk, for example). In many rural areas, high house prices exclude many working in the rural economy.
Less than a decade ago, the housing pathfinders were based on a broad-brush view that there was an over-supply of housing in those areas and a need for managed decline. This led to the destruction of many houses, without proper consideration of alternative strategies involving retention and creation of demand. It is now difficult to reconcile this with the current emphasis on the national housing crisis. It is interesting to note that heritage bodies like SAVE rigorously campaigned against the pathfinders at the time.
The aftermath of this policy is still to be seen in areas such as Liverpool and Stoke-on-Trent. In fact, the issue for such housing is one of under-demand and economic viability. The challenge is in how to incentivise employment-creating development in these areas, so as to create demand for residential properties, making their refurbishment more viable. The problem is one of geographical economic imbalance.
Managed decline is a negative and unsustainable concept. It is planning for failure. Just a few decades ago the waterfront and city centre in Liverpool were the subjects of a debate about managed decline. Thankfully those arguing for managed decline lost and the Albert Dock was listed. Today Liverpool is a vibrant city centre and the waterfront was recently voted in an RTPI poll as the greatest place in England.
The challenge for the heritage sector is in reconciling heritage conservation with the need to create fit-for-purpose, sustainable and inclusive places. For professional heritage practitioners involved in managing or supporting change, a complex range of factors is involved, including land use, transport, movement, permeability, townscape, economic development, town centre viability and numerous other factors.
So building performance is part of a much bigger picture for heritage and sustainability, with social, economic and environmental dimensions. Indeed, it is not sustainable practice to improve the performance of a building, if it then accommodates a new use in an unsustainable location.
There is an apparent mismatch between the sometimes narrow 'buildings' focus on sustainability and the way it is being addressed by those who live, work and own property in historic buildings and areas. This is especially the case for those who are now involved in planning for the future development of their areas through neighbourhood plans or community-led development, the latter sometimes including taking on heritage assets.
While not diminishing the importance of retrofitting, there is a problem if this is the sole focus, excluding consideration of what makes places sustainable. The challenge for national heritage bodies is on how best to support people and groups actively involved in conservation in different localities. To achieve this, a comprehensive and all-encompassing perspective is required. To focus on building performance in isolation rather misses the point
---
This article originally appeared in IHBC's Context 150, published in July 2017. It was written by Dave Chetwyn, managing director of Urban Vision Enterprise and of D2H. A former chair of the IHBC, he chairs the institute's communications and outreach committee.
--Institute of Historic Building Conservation
IHBC NewsBlog
UK Parliament APPG first Inquiry - The Value of Heritage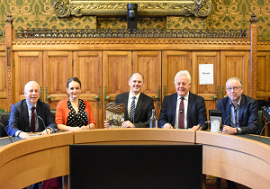 Targeted cuts in VAT on listed building refurbishments among recommendations in the UK-wide All-Party Parliamentary Group's (APPG) first report.
---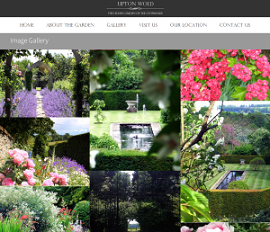 From glorious gardens and priceless collections to outstanding restoration and sustainability
---
Battle over £1.5bn hotel and office plan for Liverpool Street station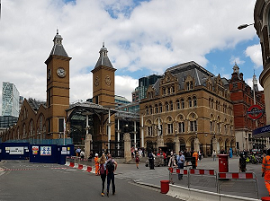 Sellar, the developer of the Shard, wants to build a 16-storey tower block on top of the historic mainline Liverpool Street station.
---
A Brief History of Reinforced Concrete Buildings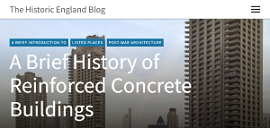 Concrete is explored by Nicky Hughes for Historic England, as the most commonly used man-made substance on the planet and second only to water as the most utilised resource.
---
New online route to CSCS Card for Built Environment Professionals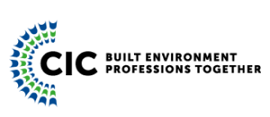 CIC has a new cutting-edge e-learning Health & Safety Certification course which on passing, has been agreed by CSCS as an acceptable alternative to the CITB Health, Safety and Environment test.
---
IHBC Context 173: Aspects of 'Diversity and Inclusion' in the heritage world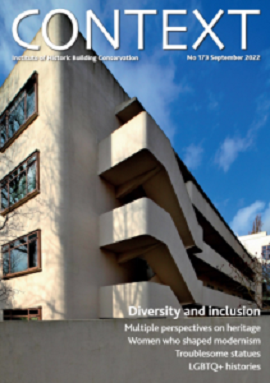 The issue explores 'Diversity and Inclusion' ranging from 'Multiple perspectives' on heritage; 'Modernist Women' and 'Troublesome statues' to LGBTQ+ histories.
---
Damaged cultural sites in Ukraine verified by UNESCO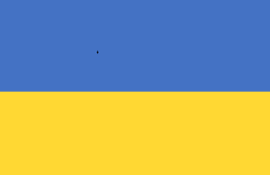 As of 5 October 2022, UNESCO has verified damage to 199 sites since 24 February – 84 religious buildings, 13 museums, 37 historical buildings, 37 buildings dedicated to cultural activities, 18 monuments and 10 libraries.
---
Joint Position Statement on 'Investigation of moisture and its effects on traditional buildings' Launched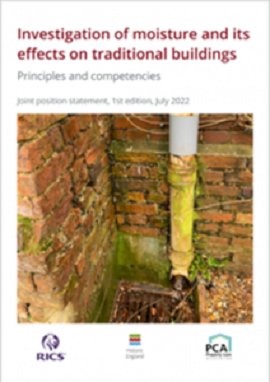 This document outlines the principles and competencies that surveyors and contractors should adopt to deliver best practice when investigating moisture-related issues in traditional buildings.
---
England housing strategy could consume over 100% of the nation's carbon budget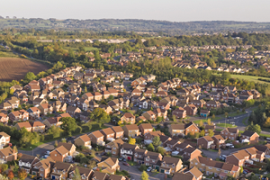 New research on the future carbon emissions etc. impacts on nature from England's current housing strategy estimates that by 2050 12% of the carbon budget for 1.5°C could be consumed by newbuilds, and 92% by the everyday emissions from the existing housing stock.
---
Historic England's 'A Brief History of the English Mosque'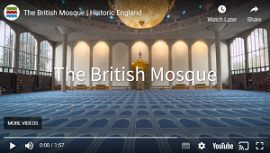 Historic England (HE) has published 'A Brief History of the English Mosque' on the discovery of the architectural evolution of the mosque in Britain, from the conversion of houses to contemporary expressions of mosque architecture.
---
Welcome to #IHBC25 – 25 years since we turned professional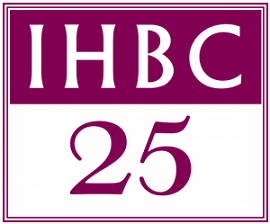 2022 will see the IHBC mark a quarter of a century since our incorporation as a professional body supporting and accrediting built and historic environment conservation specialists. We're kick-starting it by inviting your ideas on how to mark this special year!